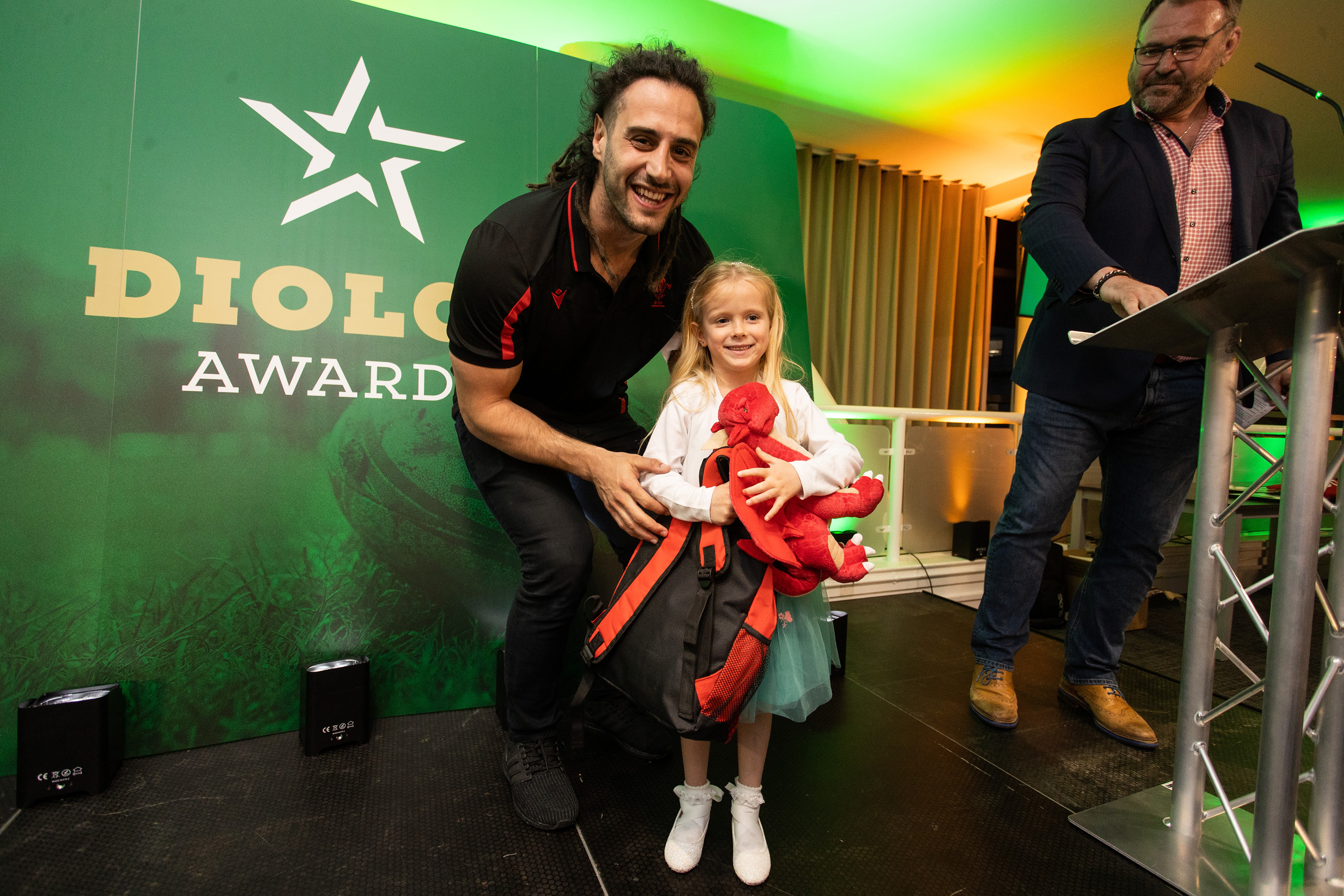 Wales ex-international Josh Navidi presents Ava Mathieson with her Young Volunteer Award
A Night to Celebrate the Remarkable Volunteers in Welsh Rugby
25th April 2023, 5:15 pm By Principality Stadium
Community rugby in Wales relies heavily on volunteers who put huge time and effort into the club game.  Now, a set of awards have been introduced by the WRU to recognise the contribution of these invaluable people.
The inaugural WRU Community Volunteer Diolch Awards night was held at Principality Stadium earlier this month.
Some 65 clubs were represented at the event which was compered by former Wales and Lions star Scott Quinnell and guests were treated to a pitchside performance by Ebbw Vale based choir, Cân Aderyn.
WRU chairman Ieuan Evans, interim chief executive Nigel Walker, community director Geraint John and Welsh internationals Gwen Crabb, Scott Baldwin and recently retired Josh Navidi were among those to hand out the awards.
One of the highlights of the evening was the presentation to five-year old Ava Mathieson who was the joint winner of Young Volunteer of the Year award.
You can read about Ava and all the other award winners here:
AWARDS LIST
Senior Female Community Coach
Nia Sian Jones (Merched Clwb Rygbi Caerdydd)
Nia dedicates three nights a week and most Sundays to coaching. She coaches two female teams, Merched CRCC and Llandaff North Women, and has also coached Cardiff Quins U15s and U18s.
Volunteer of the Year
Lowri Owen (Clwb Rygbi Nant Conwy)
Club secretary Lowri is a hugely efficient and tireless administrator. During Covid-19, she masterminded the club's Community Response Programme, co-ordinating shopping/prescription collections and supporting those in need.
Young Volunteer of the Year
Joint winners: Ava Mathieson (St Peters RFC U14s) and Ieuan Pilliner (Bridgend Sports RFC)
Ava is only five years old, but has raised aroung £1000 for her brother's U14s team at St Peters by participating in bucket collections and selling raffle tickets.
Teenager Ieuan, who is 16, coaches and referees Bridgend Sports U10s, while also helping out around the club in any way he can on match days.
Special Recognition Award
Dave Pemberton (Clwb Rygbi Caerdydd)
The club medical officer saved the life of Clwb Rygbi Caerdydd player Steffan Howells who suffered a cardiac arrest during a cup match last October. Dr Pemberton performed CPR, making use of the club's defibrillator.
Club Operations Manager
Simon Nye (Blackwood RFC)
During Covid, Simon ensured the entire club complied stringently with the guidelines issued by the WRU and government. He also serves as the club's Assistant Secretary, funding Co-ordinator and minis and juniors treasurer.
Club Safeguarding Officer
Andrea Leggatt-Jones (Carmarthen Quins RFC)
Andrea is a dedicated individual who endures all roles are undertaken through the correct processes, such as in terms of legal issues and delivering advice and guidance to assist in injury situations.
Connecting Communities club of the year
Shotton Steel RFC Minis and Juniors
Their Ty Calon home is a community trust, providing opportunities for people in the local area free of charge, helping those out of work to train and helping the elderly to connect through exercise and other classes.
Female Mini, Junior or Youth Youth Community Coach
Angela Sheppard (Knights Girls Rugby)
Angela has been a volunteer coach for the Knights for several years. She is passionate about rugby and the development of the women's game. She basically eats, sleeps and breathes the Knights.
Fundraiser of the Year
Alan Morgan (Crickhowell RFC)
Since coming on board four years ago, Alan has played a pivotal role in taking the club from a surviving organisation to a thriving one, with his business acumen proving a game-changer. He has also played a significant part in refreshing the club membership.
Male Mini, Junior or Youth Community Coach of the Year
Joint winners – Chris James (St Peters RFC) and Tom Eaton (Waunarlwydd RFC)
Chris has coached the current St Peters Youth team players since they were only seven years old and has retained an incredible 92 per cent of the squad during that time.
Four years ago, Tom decided to begin rugby training for children aged three+ at Waunarlwydd. He started with five children and within a year it grew to 60 ranging from three to six in age.
Male Senior Community Coach of the Year
Keith Pritchard (West Swansea Hawks)
Keith takes training four days a week and attends all games every Sunday. Through Covid, he produced training videos and he plans all matches and festivals, as well as presentation nights. He's raised £17,500 through sponsors to provide kit and equipment.
Presidents Lifetime Achievement Award
Jon Nicolls (Glais RFC)
At 85 years old, John is still showing the youngsters at the club how to do things! A former player, he was on the original committee that built the club house in 1965 and is still a major part of the committee and the club today. He co-runs the weekly bingo and is the club's volunteer groundsman, spending two to three days a week on the fields keeping them in tip top condition.