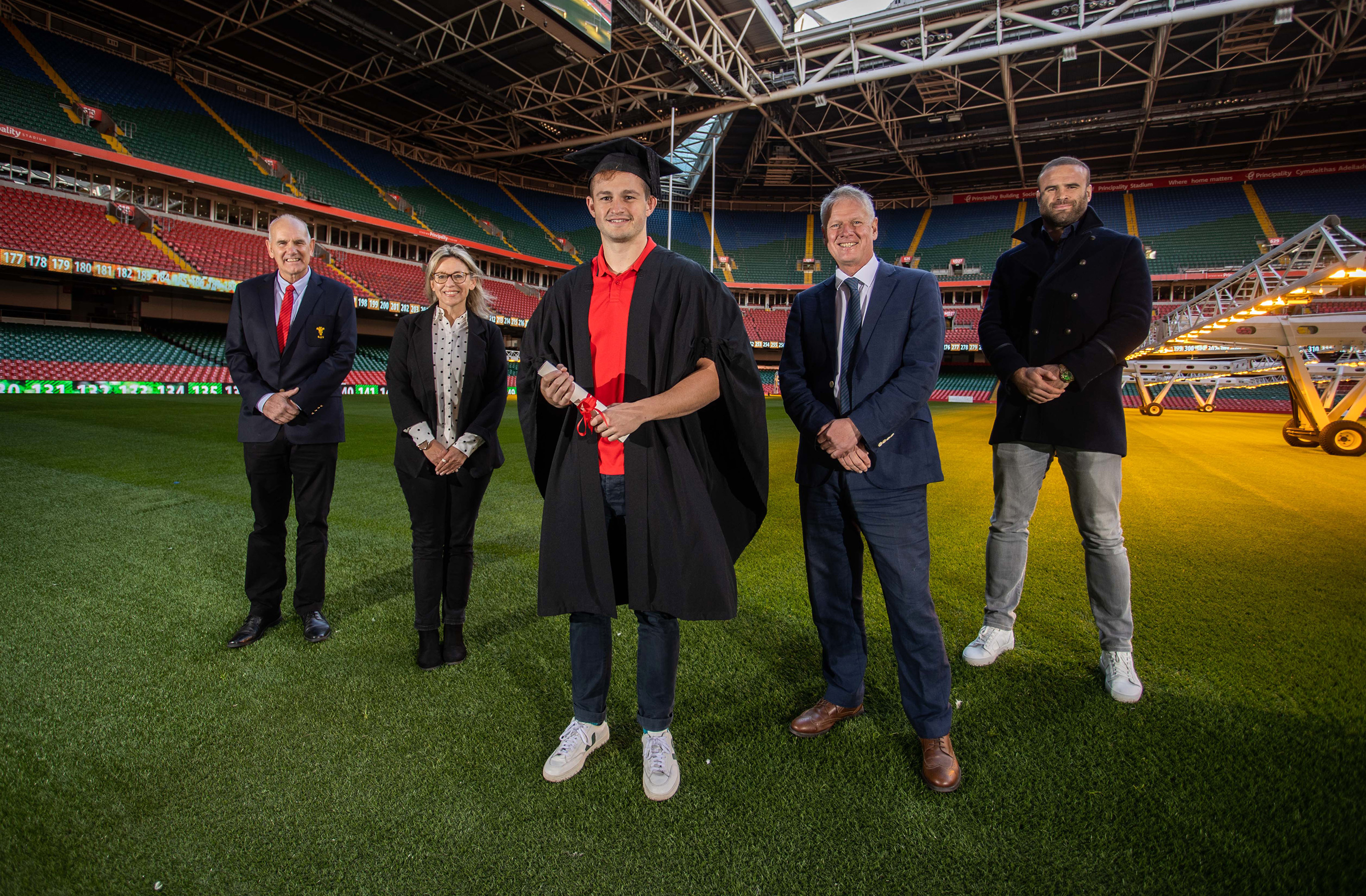 22.10.21 - WRU partnership with Cardiff University where graduation ceremonies will take place in 2022 - WRU chairman Rob Butcher, Pro Vice-Chancellor Education and Students Claire Morgan, Hallam Amos, Vice-Chancellor Colin Riordan and Jamie Roberts.
Cardiff University to hold graduations at home of Welsh Rugby
27th October 2021, 1:05 pm By Principality Stadium
Thousands of Cardiff University graduates will get the once-in-a-lifetime opportunity to doff their caps in front of friends and family at the iconic home of Welsh rugby – The Principality Stadium.
The 73,000-seater stadium will host graduates from Cardiff University's Class of 2020, 2021, and 2022. They and their family and friends will be invited to return to the Welsh capital to attend this unique celebration event.
"We know how hard the last few years have been for all our students and how disappointing it was when we made the difficult decision to postpone in-person graduation ceremonies because of the pandemic," said Vice-Chancellor Professor Colin Riordan.
"That's why we gave a commitment to hold in-person events when it was safe to do so. We couldn't think of a better location to hold this one-off graduation event than The Principality Stadium – the beating heart of Welsh rugby."
Whilst many of the class of 2020 and 2021 may have moved away, the University wants to encourage all eligible alumni to make the return to Cardiff so that we can recognise their achievements together as a University community with family and friends.
Professor Riordan added: "We know many graduates have moved on to exciting new ventures. But we hope as many alumni as possible will return to Cardiff to celebrate their educational achievements with their friends and families in arguably one of the world's most iconic venues.
"We are looking forward to welcoming them back to the city to applaud their wonderful successes."
Rob Butcher WRU Chairman says 'We're delighted that Cardiff University has chosen Principality Stadium as their venue to hold this unique graduation event in 2022.
Students can share in this special moment with family and friends on the same historic ground that has seen rugby heroes win championships and musical icons such as The Rolling Stones and Beyonce perform. We look forward to creating a spectacular event with the team at Cardiff University to celebrate the achievement of its Higher Education graduates.'
Subject to COVID-19 restrictions, Graduation celebrations will take place on the 20th, 21st and 22nd July next year.
More information is available on the website at: www.cardiff.ac.uk/graduation