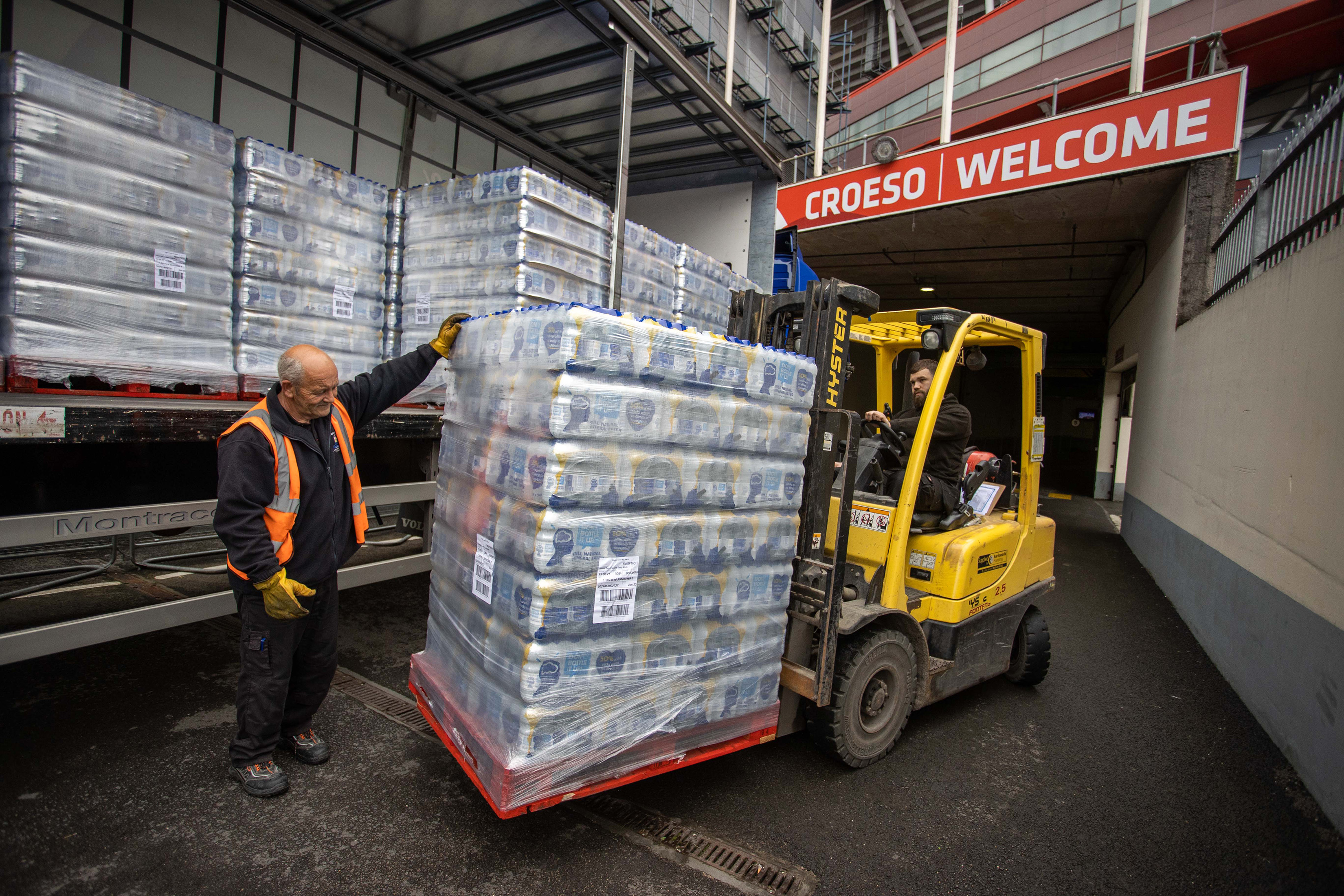 Princes Gate Young Minds
Princes Gate keep fans hydrated throughout Summer Internationals
30th June 2021, 10:54 am By Principality Stadium
Welsh Rugby Union are delighted to announce that Princes Gate will be donating water for every supporter attending the upcoming Summer Internationals at the Principality Stadium.
A bottle of natural mineral water will be placed under every seat across the stadium to keep supporters hydrated throughout the series. Earlier this week Principality Stadium took delivery of 13 pallets of water, a total of 26,208 bottles which includes water for all supporters, staff and the team across the three fixtures: cementing the great partnership between WRU and Princes Gate, who've been the official water supplier for almost 15 years.
The donation marks Princes Gate's new 'Don't Bottle It Up campaign in partnership with Young Minds' launching in July which coincides with the Summer fixtures. Princes Gate feel this is an ideal opportunity to spread the 'Don't Bottle It Up' message and promote the importance of talking, which is a particularly prevalent message in sport.
Samantha Atkinson, Princes Gate Commercial Director said: "Unfortunately, the COVID -19 pandemic has affected many people mentally as well as physically and we want to ensure we play a part in the solution to help promote the message and offer support to those who need it. We are delighted that the Welsh Rugby Union are able to help support this very important message. Grassroots sport and getting outside is imperative for young people's mental health and therefore it only felt right to use this bottle for this event"
Each of the 'Don't bottle it up' bottles will display key support lines for young people struggling with mental health, additionally it will provide a 'parents line' to offer support to parents if they need advice on how to help young people in need. The 'Don't Bottle It Up' charity pack is bottled in Pembrokeshire, West Wales, using 100% recycled plastic, 100% renewable energy, is 100% recyclable and at retail 50% of all profits go to Young Minds.
Mark Williams, Principality Stadium Manager said: "As the internal Food & Beverage outlets will not be open within the stadium for the Summer games, I offer a big thank you to Princes Gate for donating water to all supporters who will be visiting the stadium; and we're delighted we can help support their mental health campaign with Young Minds in the process."
Providing a bottle of natural mineral water for every supporter is just one of the new processes in place at Principality Stadium. Supporters will also be allowed to bring in their own food/snacks for the game (in a clear bag) as well as their own bottle of water or soft drink.
Ahead of the first game against Canada on Saturday, the WRU advises all supporters to read the Fan Guide which can be found online at wru.wales/fan-canada which contains essential information on Covid-19 event guidelines, digital ticketing and the implementation of a staggered entry whereby all digital tickets will display a designated gate number and entry time.